Industrial components
---- Precision gears (Spur/Helical/Spiral); Precision worm gear/shaft; Precision Face tooth couplings and Indexing plates;
---- Live Spindles for all kinds of machine tools;
---- Industrial Oil chillers;
---- Auto Tooling changers for machine tools;
---- NC-Rotary tables;
---- Reducers(includes Cycloid Gear Reducers, Planetary Reducers and RV Reducers);
---- Transmissions Case for Drilling Rig and PTO boxes (power take off);
---- Escalator Drives and Elevator Traction machines.
Large, Smaller and Non-ferrous Castings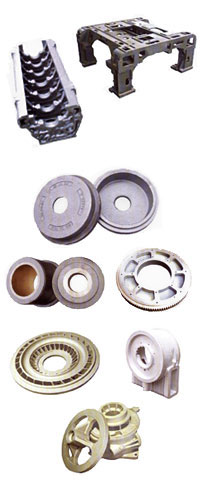 We have plenty of capacity for machine tool, industrial and power generation casting needs!

Featuring gray, ductile, low-iron and non-ferrous castings, the QC foundries have a variety of equipment to facilitate their in-house casting needs up to 10 tons.

As most of the machine tools that QC manufactures are made with aged castings, the foundry has passed ISO9001-2000 and ISO/TS 16949 quality control certification.

For applications requiring reduced weight, higher strength, nonmagnetic properties, higher melting points, or resistance to chemical and atmospheric corrosion.